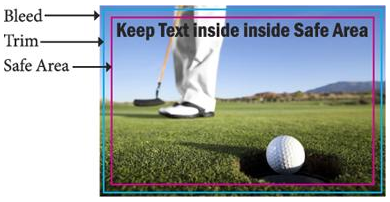 Most files that bleed must include a 1/16" (.0625) bleed area each side, if bleeds are desired. For example, an 8 1/2" x 11" full bleed document will actually be 8.625" x 11.125", to account for a 1/16" bleed on each edge. 
All non-bleed items (text and photos) must be within the safe zone area.
Full color Safe Zone .125" from the trim.  
Booklets Safe Zone .25" from the trim and also increase bleed to .125
One color Safe Zone .312" from the trim.